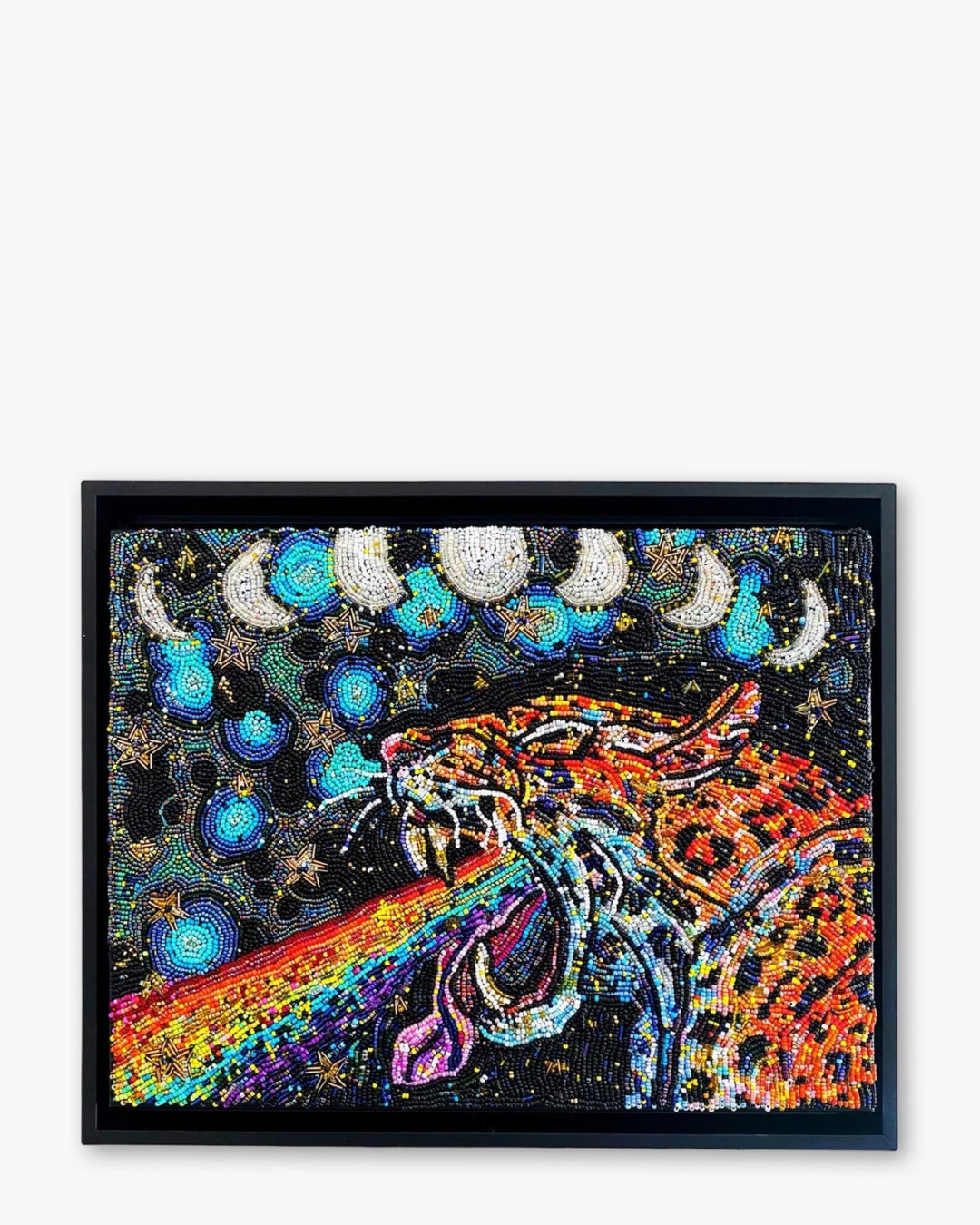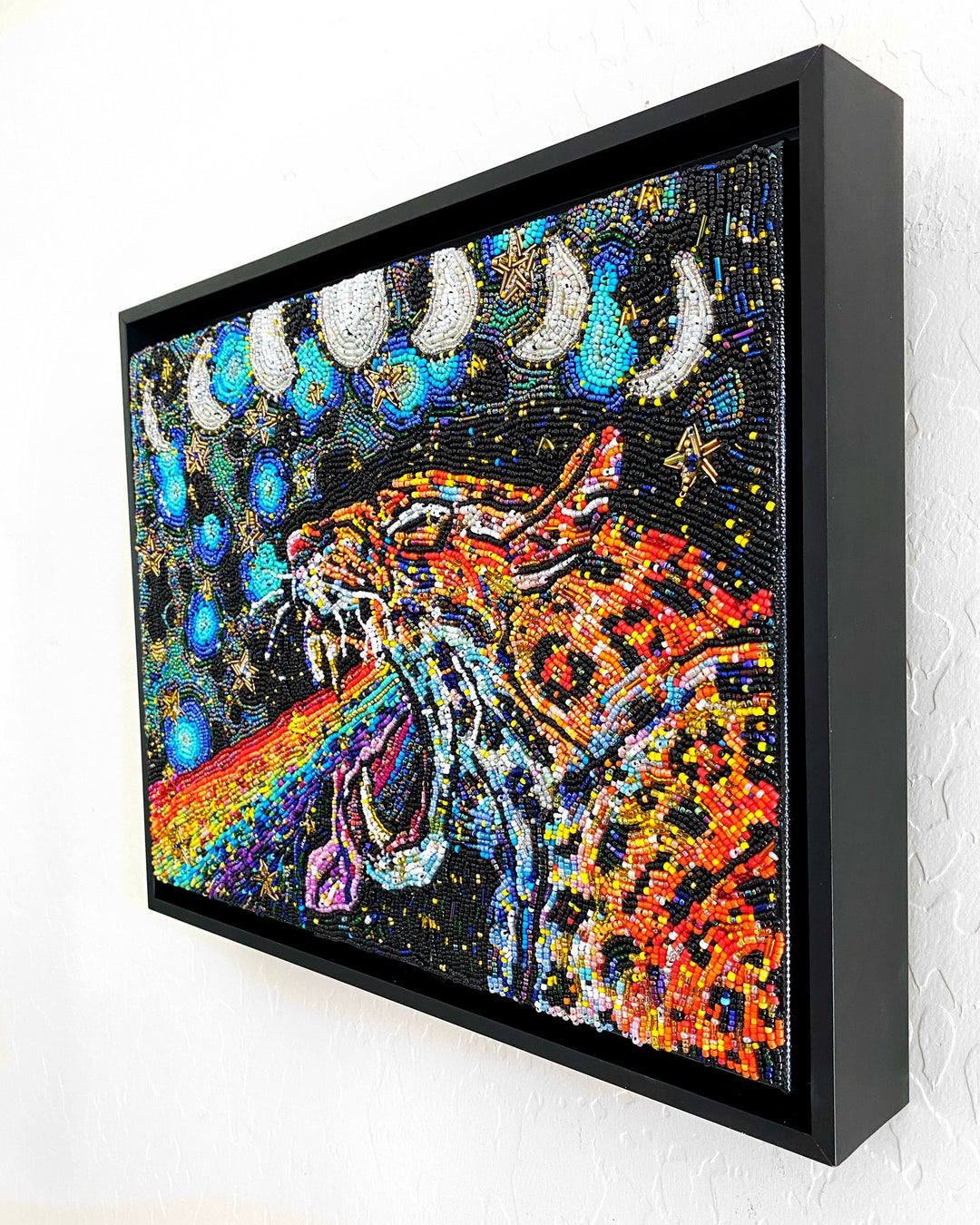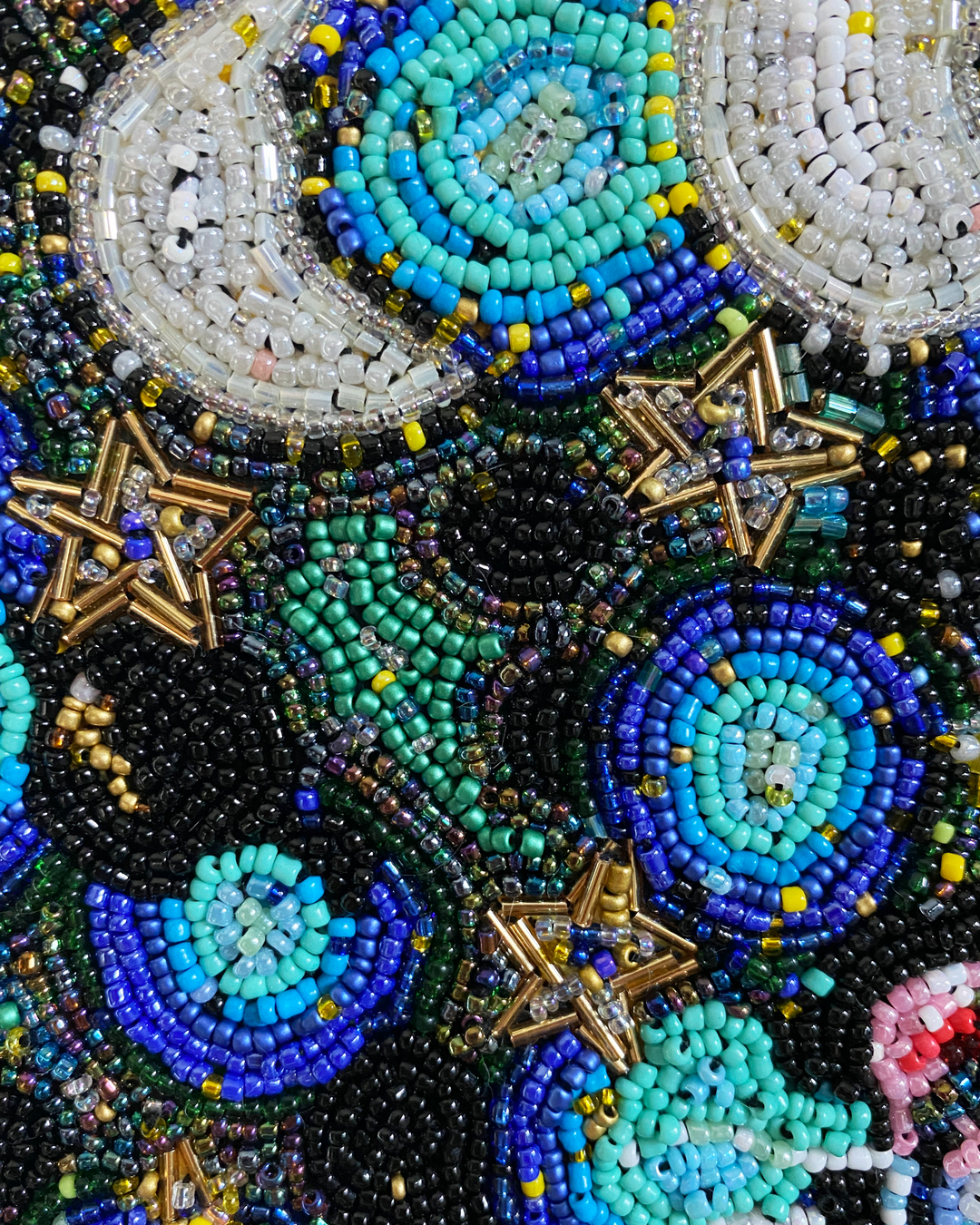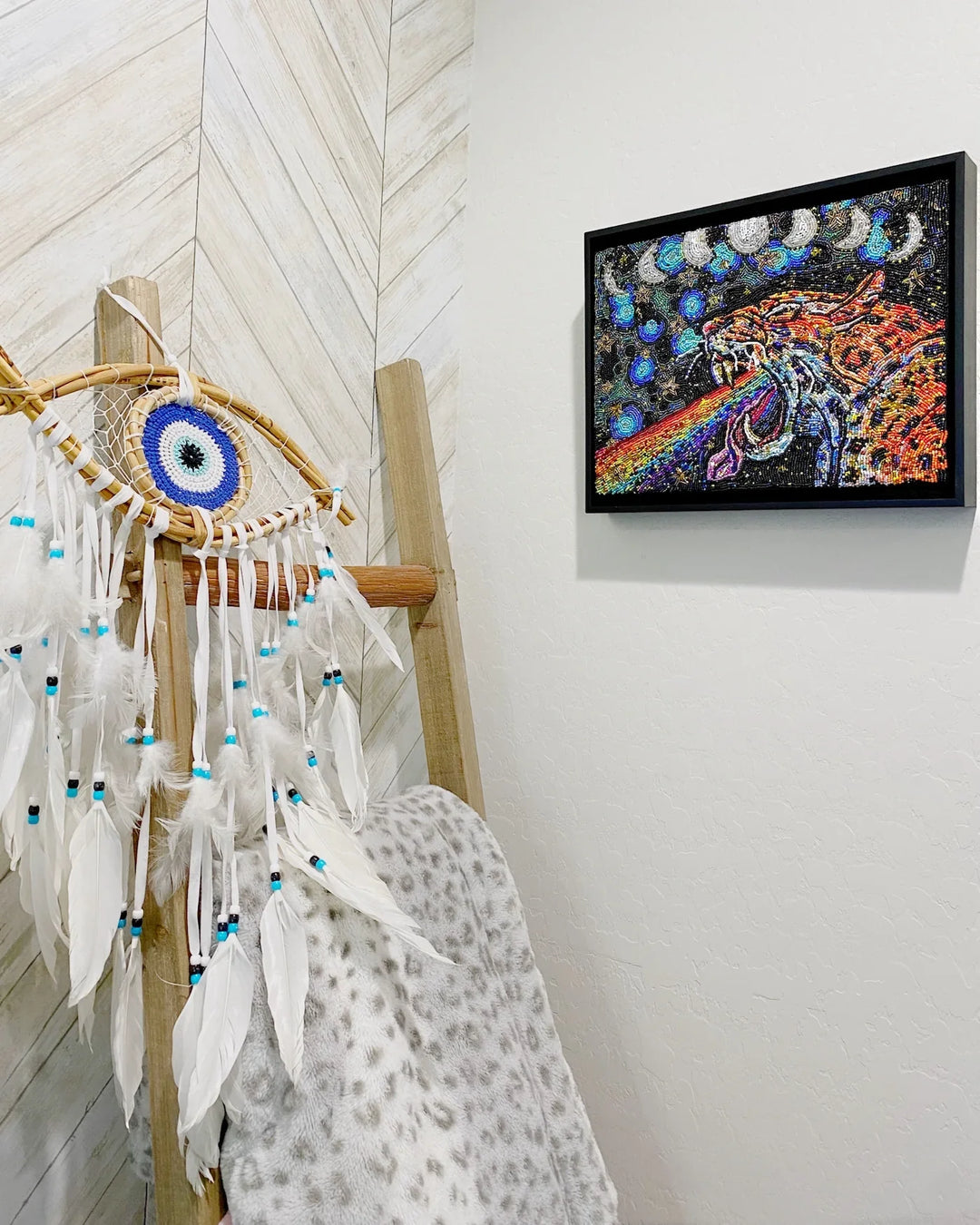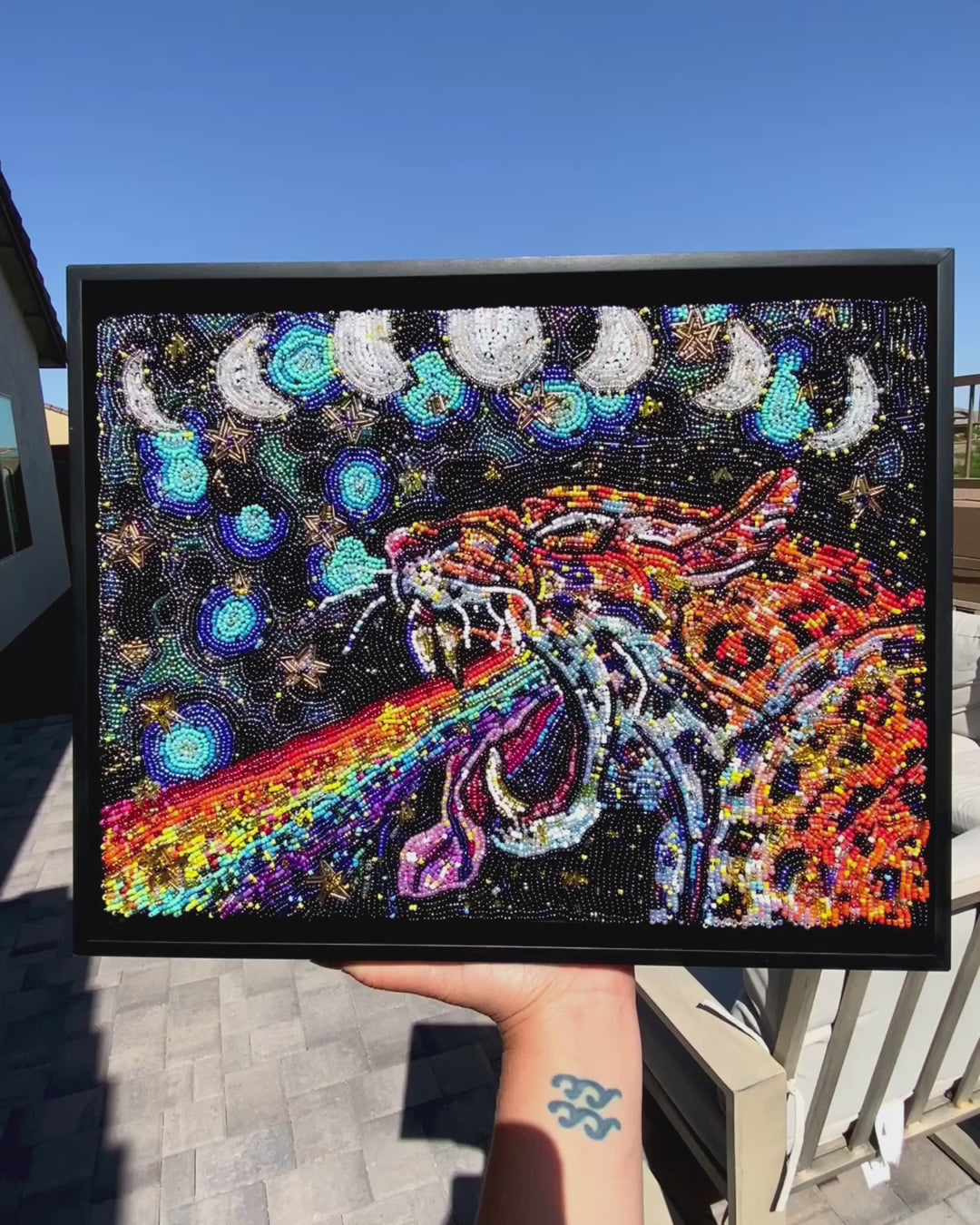 Moon Tides, Rainbow Guide $ Evil Eye Geodes ( Fully Beaded Artwork )
Regular price
$14,000.00
/
---
Size / Media : This original one of a kind original beaded artwork measures 11x14 inches and comes framed in a gallery worthy footer frame. 
 Inspiration 
It is through color that we see the world around us. Each color evoking a different emotion. Rainbows symbolize the vast array of emotions we feel throughout our lives. The ups and downs like the phases of the moon. Jaguars are a symbol of protection, courage and strength. Let this piece guide and protect you throughout your life no matter the circumstance. 
---
Only 1 available, collect it while you can

Inventory on the way
We're sure you'll LOVE it but just in case returns & exchanges are free of charge for 14 days upon arrival.
This isn't any old knick-knack. Our heirloom worthy works deserve divine display.
To keep your work focal point worthy we recommend:
These gorgeous works come framed in a gallery worthy floater frame for ease of care. With most works dust will settle on the top of a piece over time. Take a slightly damp cotton cloth to the frame for dusting.
This is so exciting! Your very own original Heather Freitas piece that you were able to get your hands on before anyone else! We know you're super excited to display your masterpiece and with our complimentary FREE shipping ( to United States ) service it will be on its way to you shortly. Flat rate $9.99 shipping for all international pieces.
All of our beaded artworks ship in 3-5 business days. Once shipped you will receive tracking via email.
For U.S clients your prized piece usually arrives in 3-5 business days once shipped.
Intentional clients your cherished collectable usually arrives in 7-14 business days.
Photos just do not do these justice and more often then not all the chatter is about how much more exquisite these are in person.
If for some reason however you do not gasp with adoration when you first set your eyes upon your piece..... you need something bigger... something smaller.....whatever the reason we offer free of charge 14 day returns.
To make collecting easier than ever we now have several payment plan options available at the last step of checkout.
PAYMENT PLAN OPTIONS ( You can learn more about each one at checkout )
Afterpay - allows for 4 interest free payments over 6 weeks. Available on orders $2,000 & under
PAYPAL CREDIT - Select PayPal at checkout. Once selected you will be able to choose PAYPAL CREDIT which allows for 6 interest free payments over 6 months.
AFFIRM - Affirm allows for flexible payments up to 36 months on orders $20,000 & under
This piece is awarded with our gorgeous complementary branded gift box which holds the certificate of authenticity. Ready to gift to yourself ( you deserve it ) or for the ultimate luxury gifting experience to those who you believe deserve nice things. 
If you would like to have the most divine custom beaded artwork made fit for your palace please head to our Design Services page or email custom@heatherfreitas.com to contact us about brining your vision to life and we will get back to you asap with pricing and more information.