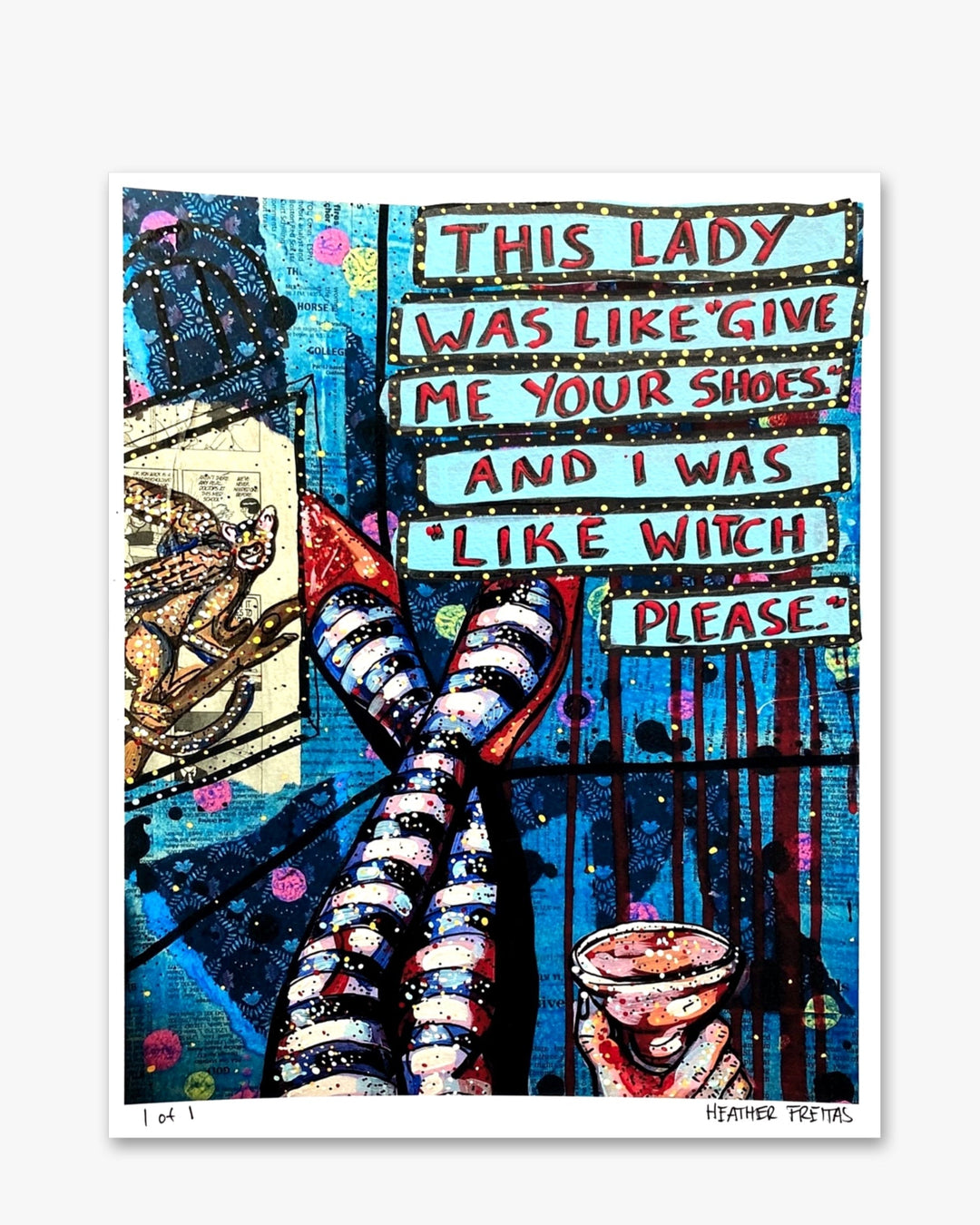 Gimme Your Shoes ( Painted Over Print )
A collection of prints inspired by Freitas's previous original painting  " Remastered Collection ' this hand painted print collection blurs the lines between old and new, originals and prints. 
The process : The artist creates prints from original artwork by bringing them into photoshop and running a pin light high pass over each print. This softens the edges and sets the print back a little more while still preserving all the detail. By doing this it allows for the hand painted portions on each print to stand out a LITTLE BIT more instead of getting lost in the print. Each print is hand painted individually to create a brand new piece of work, merging print and paint. Each hand painted print is therefore one of a kind. 

This print measures 8x10inches on archival fine art paper. 
Hand painted additions - The text and text block have been hand painted over this print. 

This piece is hand signed and numbered as well as awarded with a certificate of authenticity.
These extra special one of a kind prints are printed with archival Industry leading ink expected to create prints that have WIR display permanence ratings of up to 200 years for color. They are then painted over by the artist with select elements to transform the print into something new, something beautiful and something one of a kind. 
For maximum print life, display all prints under glass or UV-absorbing acrylic and protect them from prolonged high-humidity environments. For more care tips please see the CARE GUIDE tab below. 
Wishing for one of my other paintings to be a part of this collection? Send me an message via the requests tab below with the name of the artwork you would like available as a smalls open edition print and I will try and make it happen. 
Available to collect

Inventory on the way