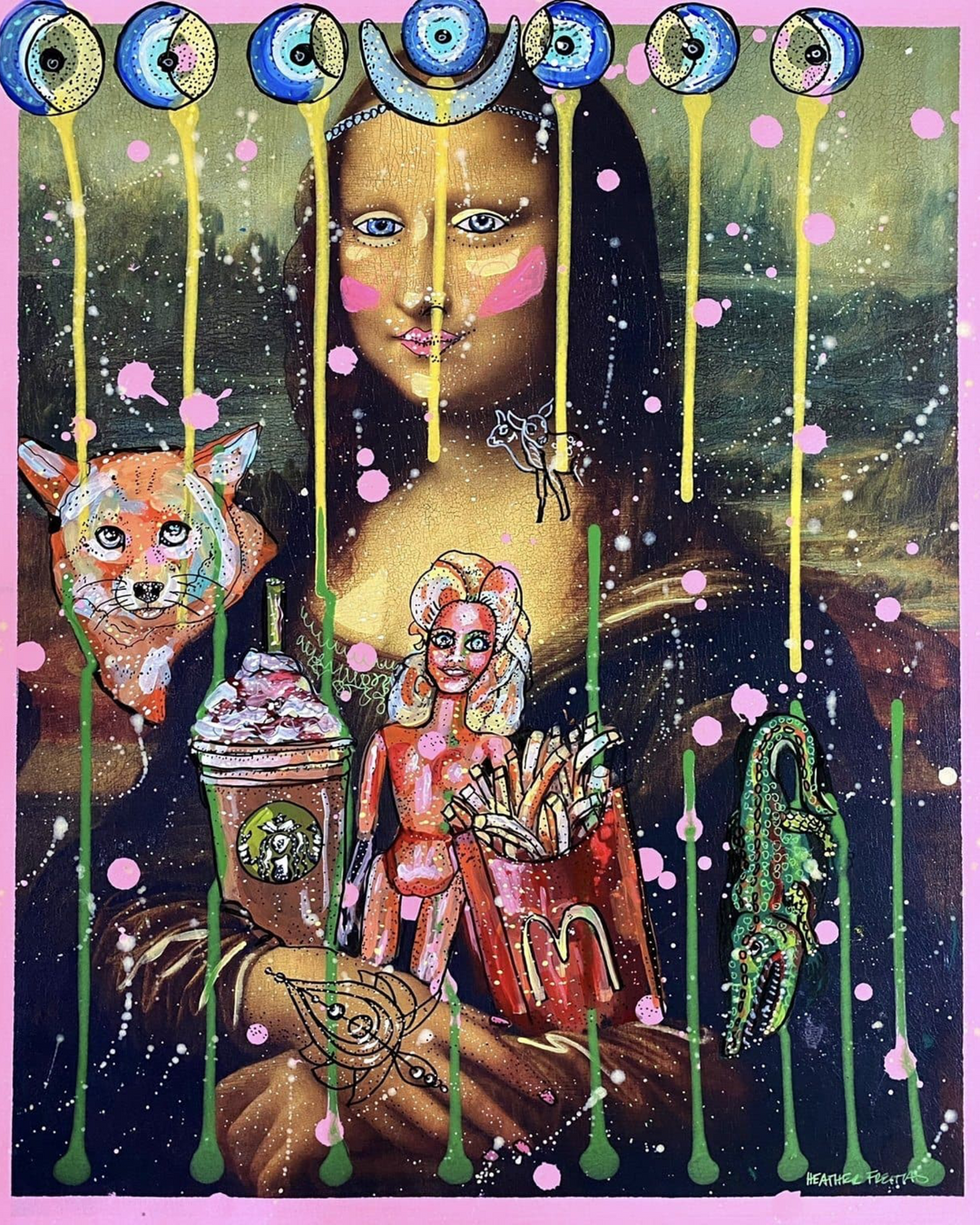 The Parody Of Inner Image & The Times We Live In
Regular price
$1,200.00
/
 This original painting is painted over an archival print of Mona Lisa. It measures 16x20 inches and is awarded with a certificate of authenticity. 


Frame suggestion click here
The composition is heavy to the left & less weighted on the left. The left side of the body is often regarded as the feminine side, the receiving side. The right side of the body is often regarded as the masculine side, the giving-out side, where you express.
The evil eye is a curse believed to be cast by a jealous glare or some other negative energy, which is usually directed towards a person who is unaware. ... Jewelry, talismans, and amulets with the eye symbol were created to give the wearer protection against the evil eye. At the top the evil eye is represented in the moon phase which symbolizes & represents powerful feminine energy.
 Lotus on hand - The Lotus Flower grows in the deep mud, far away from the sun. But, sooner or later, the Lotus reaches the light becoming the most beautiful flower ever. The Lotus flower is regarded in many different cultures, especially in eastern religions, as a symbol of purity, enlightenment, self-regeneration & rebirth.
Coyote = In Native American lore, the coyote is a symbol for intelligence, hunger, and cunning. He is a complex character who embodies both wisdom and naiveté at once.
The crocodile is symbolic of individuality, protection, & strength.
The deer symbolize the powers in nature that are not easily subdued. They are native to every continent except Australia, thus they are able to adapt very well to many habitats. They represent instinctual energy, independence, & regeneration.
 She wears a crescent which is symbolic of growing & increasing which often symbolizes new beginnings & the making of dreams into reality.
She holds the paradox's of societal norms combined with societal standards & beauty norms.
Painted over an iconic beauty and one historically well known this piece bridges the gap between past and present ( painting over and giving new life ).
Available to collect

Inventory on the way